Tent Camping, Anyone?
Camping, especially "tent camping", usually sounds much better in theory than it turns out in practice.  Dreams of the ideal camping trip usually omit the pesky gnats, vampire mosquitoes, legions of ants, sweltering heat, bone-chilling cold, unexpected monsoons, or gale-force winds.  I must admit my smoothest camping trips were ones with our children in our backyard.  Without a doubt, it is handy to be so close to civilization, but backyard camping is not very memorable.  When it comes to camping, the location matters.  For example, I will never forget camping at the base of the majestic redwoods in breathtaking Muir Woods near San Francisco.  I remember waking up feeling caressed by giant trees which towered as high above me as a football field is long.  – Or camping near a lighthouse on one of the cliffs of the Oregon coast and waking up to the sound of crashing waves and the picture post card surroundings. – Or nestled between the gorgeous aspen trees at Silver Jack Reservoir on the Western S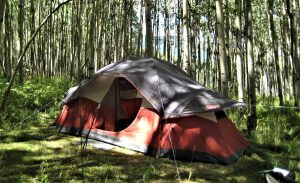 lope of Colorado where I caught my limit of trout in an hour's time. – Or along the banks of the Gunnison River in the depths of the Black Canyon, peacefully sandwiched between two rugged canyon walls.  The inconveniences of camping in such places are outweighed by advantages afforded by being where you are.  So, when camping, location matters.  Life can feel like one long camping trip with all of the inconveniences of "tent camping" in a "primitive campsite"; but remember, we are located in Christ throughout our entire earth experience, and the beauty, majesty, and abundance of living in Christ outweigh any inconveniences.