The Inner Journey of Christian Persons
In this highly descriptive, modern-day parable, the main character, Christian Persons, is escorted through the innermost regions of his own being. Christian unexpectedly discovers the riches of his status and the awesome potential he possesses in Christ. His room-to-room tour, led by his guide, the Holy Spirit, will enlighten and encourage every believer.
link to author's website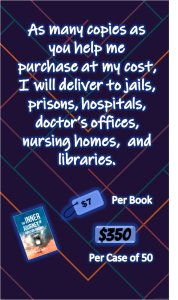 You can make checks out to River of Life Christian Center designated for book give away and mail then to the church address found on the Contact Us page.
Or, You can use on-line giving found on the Giving page.